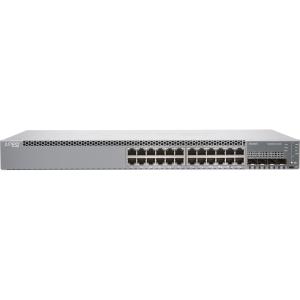 Điểm nổi bật của sản phẩm
Loại sản phẩm: Bộ

 chuyển mạch lớp 3

Nguồn điện:

 Nguồn điện

Lớp được hỗ trợ:

 4

Form Factor:

 Máy tính để bàn, gắn trên Rack, gắn trên tường

Công nghệ mạng:

 10/100 / 1000Base-T, 10GBase-X

Loại khe cắm mở rộng:

 SFP +

Quản lý được:

 Có

Công nghệ Ethernet:

 10 Gigabit Ethernet, Gigabit Ethernet

Số lượng khe mở rộng tổng cộng:

 4

Họ sản phẩm:

 EX2300
Product Description
Juniper EX2300-24T-VC switch Juniper Networks 24 cổng EX2300 10/100/1000BASET + 4 x 1 / 10G SFP / SFP + Virtual Chassis  được bán giá thâp và nhiều tính năng khác
EX2300-24T-VC
Loại sản phẩm: Bộ chuyển mạch lớp 3
Lớp được hỗ trợ: 4
Nguồn điện: Nguồn điện
Tổng số cổng mạng: 24
Loại khe cắm mở rộng: SFP +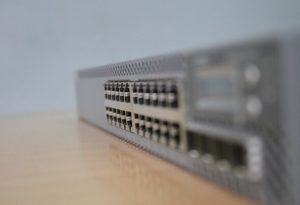 Hình ảnh:
 Juniper EX2300-24T-VC
Công nghệ Chassis Ảo EX2300-24T-VC:
EX2300 hỗ trợ công nghệ Virtual Chassis độc nhất của Juniper, cho phép bốn thiết bị chuyển mạch EX2300 kết nối với nhau được quản lý như là một thiết bị logic duy nhất cung cấp giải pháp khả mở và khả năng mở rộng khi mở rộng môi trường mạng.
Trong khi các thiết bị chuyển mạch EX2300 có thể kết nối với bất kỳ cổng kết nối mặt trước nào bằng các bộ thu phát chuẩn SFP + chuẩn 10GbE (được bán riêng), các cổng này cũng có thể được cấu hình như 1GbE / 10GbE lên các thiết bị kết hợp bằng cách vô hiệu hóa công nghệ Virtual Chassis.
Khi được triển khai trong một cấu hình Virtual Chassis, các thiết bị EX2300 sẽ lựa chọn một switch chính và một backup dựa trên một bộ các chính sách hoặc tiêu chí cấu hình sẵn. Chuyển đổi chính sẽ tự động tạo và cập nhật các bảng định tuyến và chuyển mạch tùy chọn trên tất cả các thành viên chuyển mạch Chassis Hệ thống Ảo khác. Các switch có thể được thêm vào hoặc gỡ bỏ khỏi cấu hình Virtual Chassis mà không bị gián đoạn dịch vụ.
Các cấu hình EX2300 Virtual Chassis hoạt động như các hệ thống thống nhất có độ đàn hồi cao, cung cấp quản lý đơn giản bằng cách sử dụng một địa chỉ IP duy nhất, phiên telnet duy nhất, giao diện dòng lệnh đơn (CLI), kiểm tra phiên bản tự động và cấu hình tự động. Các thiết bị chuyển mạch EX2300 cũng có khả năng chuyển mạch cục bộ, do đó các gói tin đi vào một cổng dành cho một cổng khác trên cùng một switch không phải đi qua Virtual Chassis, tăng khả năng chuyển tiếp.
EX2300 cấu hình Virtual Chassis thực hiện cùng một mô-đun đánh số khe / mô-đun / cổng như các sản phẩm dựa trên khung gầm khác của Juniper Networks, cung cấp các hoạt động thực sự giống như khung gầm. Bằng cách sử dụng một hệ điều hành nhất quán và một tập tin cấu hình duy nhất, tất cả các thiết bị chuyển mạch trong cấu hình Virtual Chassis được coi là một thiết bị duy nhất, đơn giản hóa việc bảo trì và quản lý toàn bộ hệ thống.
Thông số kỹ thuật EX2300-24T-VC
Dimensions (W x H x D)    Width:
– 17.4 in (44.19 cm) for desktop installations
– 17.5 in (44.6 cm) with rack-mount brackets
Height: 1.75 in (4.45 cm) for 1U installations
Depth: 10.2 in (25.9 cm)
Weight    7.25 lb (3.29 kg)
Rack mountable    1 Rack Unit
Backplane    80 Gbps Virtual Chassis interconnect to link up to four switches as a single logical device
Hardware Specifications
Switching Engine Model    Store and forward
DRAM    2 GB
Flash    2 GB
CPU    1.25GHz ARM CPU
GbE port density per system    28 (24 host ports + four-port SFP/SFP+ uplinks)
Supported Optics
10/100/1000BASE-T connector type RJ-45
GbE SFP optic/connector type: RJ-45, or LC SFP fiber supporting 1000BASE-T SFP, SX (multimode), LX (singlemode), or LH (single-mode)
Physical Layer
Physical port redundancy: Redundant trunk group (RTG)
Cable diagnostics for detecting cable breaks and shorts
Auto MDI/MDIX (medium-dependent interface/mediumdependent interface crossover) support
Port speed downshift/setting maximum advertised speed on 10/100/1000BASE-T ports
Digital optical monitoring for optical ports
Packet-Switching Capacities (Maximum with 64-Byte Packets)    128 Gbps
Power Options
Power Supplies    55 W AC Max. System Power Consumption (Input Power without PoE)
Environment
Operating Temperature    32° to 113° F (0º to 45º C)
Storage Temperature    -40º to 158º F (-40º to 70º C)
Relative Humidity (Operating)    10% to 85% (noncondensing)
Relative Humidity (Non-Operating)    0% to 95% (noncondensing)
Altitude (Operating)    Up to 13,000 ft (3962 m) at 40° C according to GR-63
Altitude (Non-Operating)    Up to 15,000 ft (4572 m)
Cooling    Airflow: 25 cfm
Noise Specifications
Noise Specifications    Noise measurements based on operational tests taken from bystander position (front) and performed at 25° C in compliance with ISO 7779.
Acoustic Noise in DBA    34.2
Safety and Compliance
Safety Certifications
UL-UL60950-1 (Second Edition)
C-UL to CAN/CSA 22.2 No.60950-1 (Second Edition)
TUV/GS to EN 60950-1 (Second Edition)
CB-IEC60950-1 (Second Edition with all country deviations)
EN 60825-1 (Second Edition)
Electromagnetic Compatibility Certifications
FCC 47CFR Part 15 Class A
EN 55022 Class A
ICES-003 Class A
VCCI Class A
AS/NZS CISPR 22 Class A
CISPR 22 Class A
EN 55024
EN 300386
CE
Telecom Quality Management    TL9000
Environmental    Reduction of Hazardous Substances (ROHS) 6
Telco    CLEI code
Warranty    Enhanced limited lifetime switch hardware warranty
Additional Feature Specifications:
Layer 2/Layer 3 Throughput (Mpps) (Maximum with 64 Byte Packets)
95 Mpps (wire speed)
Layer 2 Features
Maximum MAC addresses in hardware: 16,000
Jumbo frames: 9216 bytes
Number of VLANs supported: 4093
Range of possible VLAN IDs: 1-4094
Port-based VLAN
MAC-based VLAN
Voice VLAN
IEEE 802.1ak: Multiple VLAN Registration Protocol (MVRP)
Compatible with Per-VLAN Spanning Tree Plus (PVST+)
RVI (Routed VLAN Interface)
IEEE 802.1AB: Link Layer Discovery Protocol (LLDP)
LLDP-MED with VoIP integration
IEEE 802.1ad Q-in-Q tunneling
IEEE 802.1br: Bridge Port Extension
IEEE 802.1D: Spanning Tree Protocol
IEEE 802.1p: CoS prioritization
IEEE 802.1Q: VLAN tagging
IEEE 802.1Q-in-Q: VLAN Stacking
IEEE 802.1s: Multiple Spanning Tree Protocol (MSTP)
Number of MST instances supported: 64
Number of VSTP instances supported: 253
IEEE 802.1w: Rapid Spanning Tree Protocol (RSTP)
IEEE 802.1X: Port Access Control
IEEE 802.3: 10BASE-T
IEEE 802.3u: 100BASE-T
IEEE 802.3ab: 1000BASE-T
IEEE 802.3z: 1000BASE-X
IEEE 802.3af: PoE
IEEE 802.3at: PoE+
IEEE 802.3ad: Link Aggregation Control Protocol (LACP)
IEEE 802.3ah: Ethernet in the First Mile
Layer 3 Features: IPv4
Maximum number of ARP entries: 1,500
Maximum number of IPv4 unicast routes in hardware: 512 prefixes; 4,096 host routes
Maximum number of IPv4 multicast routes in hardware: 2,048 groups; 2,048 multicast routes
Routing Protocols: RIP v1/v2, OSPF v1/v2
Static routing
Routing policy
Bidirectional Forwarding Detection (BFD) with slow timers (> 3 sec)
IP directed broadcast
Layer 3 Features: IPv6
Maximum number of Neighbor Discovery (ND) entries: 1,500
Maximum number of IPv6 unicast routes in hardware: 512 prefixes; 2,048 host routes
Maximum number of IPv6 multicast routes in hardware: 1,024 groups; 1,024 multicast routes
Neighbor discovery, system logging, Telnet, SSH, SNMP, Network Time Protocol (NTP), Domain Name System (DNS)
Static routing
Routing protocols: RIPng, OSPF v3
Access control lists (ACLs) (Junos OS firewall filters)
Port-based ACL (PACL)—256 ingress; 256 egress
VLAN-based ACL (VACL)— 256 ingress; 256 egress
Router-based ACL (RACL)—256 ingress; 512 egress
ACL entries (ACE) in hardware per system: 2,000
ACL counter for denied packets
ACL counter for permitted packets
Ability to add/remove/change ACL entries in middle of list (ACL editing)
L2-L4 ACL
Access Security
MAC limiting
Allowed MAC addresses—configurable per port
Sticky MAC (persistent MAC address learning)
Dynamic ARP inspection (DAI)
Proxy ARP
Static ARP support
DHCP snooping
802.1X port-based
802.1X multiple supplicants
802.1X with VLAN assignment
802.1X with authentication bypass access (based on host MAC address)
802.1X with VoIP VLAN support
802.1X dynamic ACL based on RADIUS attributes
802.1X Supported EAP types: Message Digest 5 (MD5), Transport Layer Security (TLS), Tunneled Transport Layer Security (TTLS), Protected Extensible Authentication Protocol (PEAP)
IPv6 RA Guard
IPv6 Neighbor Discovery Inspection
Captive Portal
Static MAC authentication
MAC-RADIUS
Control plane DoS protection
Fallback authentication
Trusted Network Connect (TNC) certified
High Availability
Link Aggregation
802.3ad (LACP) support:
Number of LAGs supported: 128
Maximum number of ports per LAG: 8
Tagged ports support in LAG
Uplink Failure Detection (UFD)
Quality of Service (QoS)
Layer 2 QoS
Layer 3 QoS
Ingress policing: one-rate two-color; two-rate three-color markers
Hardware queues per port: 8
Scheduling methods (egress): Strict Priority (SP), shaped deficit weighted round-robin (SDWRR)
802.1p, DSCP /IP precedence trust and marking
L2-L4 classification criteria: Interface, MAC address, Ethertype, 802.1p, VLAN, IP address, DSCP/IP precedence, TCP/UDP port numbers
Congestion avoidance capabilities: Tail drop and WRED
Multicast
IGMP snooping entries: 2,000
IGMP: v1, v2, v3
IGMP snooping
PIM-SM, PIM-SSM, PIM-DM
Services and Manageability
Junos OS CLI
Web interface (J-Web)
Out-of-band management: Serial, 10/100BASE-T Ethernet
ASCII configuration
Rescue configuration
Configuration rollback
Image rollback
Element management tools: Junos Space Network Management Platform
Simple Network Management Protocol (SNMP): v1, v2c, v3
Remote monitoring (RMON) (RFC 2819) Groups 1, 2, 3, 9
Network Time Protocol (NTP)
DHCP server
DHCP client and DHCP proxy
DHCP relay and helper
RADIUS authentication
TACACS+ authentication
SSHv2
Secure copy
HTTP/HTTPs
DNS resolver
System log logging
Temperature sensor
Configuration backup via FTP/secure copy
Interface range
Supported RFCs
RFC 768 UDP
RFC 783 Trivial File Transfer Protocol (TFTP)
RFC 791 IP
RFC 792 Internet Control Message Protocol (ICMP)
RFC 793 TCP
RFC 826 ARP
RFC 854 Telnet client and server
RFC 894 IP over Ethernet
RFC 903 Reverse ARP (RARP)
RFC 906 Bootstrap Loading using TFTP
RFC 951, 1542 BootP
RFC 1027 Proxy ARP
RFC 1058 RIP v1
RFC 1122 Requirements for Internet Hosts
RFC 1256 IPv4 ICMP Router Discovery (IRDP)
RFC 1492 TACACS+
RFC 1519 Classless Interdomain Routing (CIDR)
RFC 1591 Domain Name System (DNS)
RFC 1812 Requirements for IP Version 4 routers
RFC 2030 Simple Network Time Protocol (SNTP)
RFC 2068 HTTP/1.1
RFC 2131 BOOTP/DHCP relay agent and DHCP server
RFC 2138 RADIUS Authentication
RFC 2139 RADIUS Accounting
RFC 2267 Network Ingress Filtering
RFC 2453 RIP v2
RFC 2474 DiffServ Precedence, including 8 queues/port
RFC 2597 DiffServ Assured Forwarding (AF)
RFC 2598 DiffServ Expedited Forwarding (EF)
RFC 2710 Multicast Listener Discovery Version (MLD) for IPv6
RFC 2925 Definitions of Managed Objects for Remote Ping, Traceroute, and Lookup Operations
RFC 3176 sFlow
RFC 3579 RADIUS Extensible Authentication Protocol (EAP) support for 802.1X
RFC 5176 Dynamic Authorization Extensions to RADIUS
LLDP Media Endpoint Discovery (LLDP-MED), ANSI/TIA- 1057, draft 08
Supported MIBs*
RFC 1155 Structure of Management Information (SMI)
RFC 1157 SNMPv1
RFC 1212, RFC 1213, RFC 1215 MIB-II, Ethernet-like MIB, and TRAPs
RFC 1493 Bridge MIB
RFC 1643 Ethernet MIB
RFC 1724 RIPv2 MIB
RFC 1905 RFC 1907 SNMP v2c, SMIv2 and Revised MIB-II
RFC 1981 Path MTU Discovery for IPv6
RFC 2011 SNMPv2 Management Information Base for the IP using SMIv2
RFC 2012 SNMPv2 Management Information Base for the Transmission Control Protocol using SMIv2
RFC 2013 SNMPv2 Management Information Base for the User Datagram Protocol using SMIv2
RFC 2096 IPv4 Forwarding Table MIB
RFC 2287 System Application Packages MIB
RFC 2460 IPv6 Specification
RFC 2464 Transmission of IPv6 Packets over Ethernet Networks
RFC 2570-2575 SNMPv3, User-based Security, Encryption, and Authentication
RFC 2576 Coexistence between Version 1, Version 2, and Version 3 of the Internet-standard Network Management Framework
RFC 2578 SNMP Structure of Management Information MIB
RFC 2579 SNMP Textual Conventions for SMIv2
RFC 2665 Definitions of Managed Objects for the Ethernetlike Interface Types
RFC 2819 RMON MIB
RFC 2863 The Interfaces Group MIB
RFC 2922 LLDP MIB
RFC 2925 Definitions of Managed Objects for Remote Ping, Traceroute, and Lookup Operations
RFC 3413 SNMP Application MIB
RFC 3414 User-based Security Model for SNMPv3
RFC 3415 View-based Access Control Model (VACM) for SNMP
RFC 3484 Default Address Selection for IPv6
RFC 3621 PoE-MIB (PoE switches only)
RFC 3810 Multicast Listener Discovery Version 2 (MLDv2) for IPv6
RFC 4188 STP and Extensions MIB
RFC 4213 Basic Transition Mechanisms for IPv6 Hosts and Routers
RFC 4291 IPv6 Addressing Architecture
RFC 4363 Definitions of Managed Objects for Bridges with Traffic Classes, Multicast Filtering, and VLAN Extensions
RFC 4443 ICMPv6 for the IPv6 Specification
RFC 4861 Neighbor Discovery for IPv6
RFC 4862 IPv6 Stateless Address Autoconfiguration
Draft – blumenthal – aes – usm – 08
Draft – reeder – snmpv3 – usm – 3desede -00
Troubleshooting
Debugging: CLI via console, telnet, or SSH
Diagnostics: Show and debug command statistics
Traffic mirroring (port)
Traffic mirroring (VLAN)
ACL-based mirroring
Mirroring destination ports per system: 4
LAG port monitoring
Multiple destination ports monitored to 1 mirror (N:1)
Maximum number of mirroring sessions: 4
Mirroring to remote destination (over L2): 1 destination VLAN
Encapsulated Remote Switched Port Analyzer (ERSPAN)
IP tools: Extended ping and trace
Juniper Networks commit and rollback
Bạn băn khoăn chưa biết nên chọn sản phẩm Juniper EX2300-24T-VC có phù hợp với nhu cầu cũng như mục đích sử dụng của doanh nghiệp mình không? Hãy nhấc máy lên và gọi ngay cho Gia-Loi, đơn vị cung cấp báo giá Juniper EX2300-24T-VC luôn luôn rẻ hàng đầu để được tư vấn, hỗ trợ miễn phí cách lắp đặt và hướng dẫn sử dụng.